Date: Mon, 18 Sep 95 20:11:37 -0600

From: Bruce Gingery <bruce%tssslab@TotSysSoft.com>

To: steve@dave-world.net

Cc: webstep@xent.w3.org

Subject: Re: X11's rgb.txt (NeXTmail)

Reply-To: Bruce Gingery <bgingery@Wyoming.COM>

On Mon, 18 Sep 95 19:19:51 -0500, Steve Weintz <indy@dave-world.net> wrote:

On another note, I'm flailing away at two projects: porting Andreas Ley's giftrans to NS and building an imagemap tool. Any help would be welcome; for instance, what should I look for to replace the X11 "rgb.txt" with?

How about with an XWindows.clr:

, or an enhanced version that
includes the SGI standard oddities:
(Composite.clr)
Do you think there's enough interest for an X11 <-> .clr pair of translators
for the next NEXT IN LINE issue?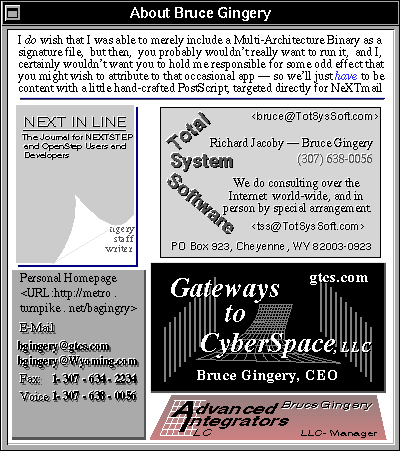 ---
Go Up (Parent):

[WebStep]

See Also (Siblings):
---
Gingery ColorMaps was converted on Tue Sep 19 15:23:27 EDT 1995 by the eText Engine, version 5, release 0.95