eText review in Japanese ``Computer Monthly''
by Katsuaki Kasahara
---
From: Katsuaki Kasahara <kasahara@empc4.icrr.u-tokyo.ac.jp>
Date: Wed, 13 Sep 95 19:32:00 +0900
To: <khare@pest.w3.org>
Subject: This is NEXT Mail: introduction of eText on a Japanese journal
Hi Rohit,
Do you remember that I informed you I was writing about multimedia editors and I wanted to include eText there ?
Now the journal "Computer Today; September issue" (a minor journal as NEXTSTEP!) has been published.
Enclosed please find the cover page of the journal and a fragment of my article.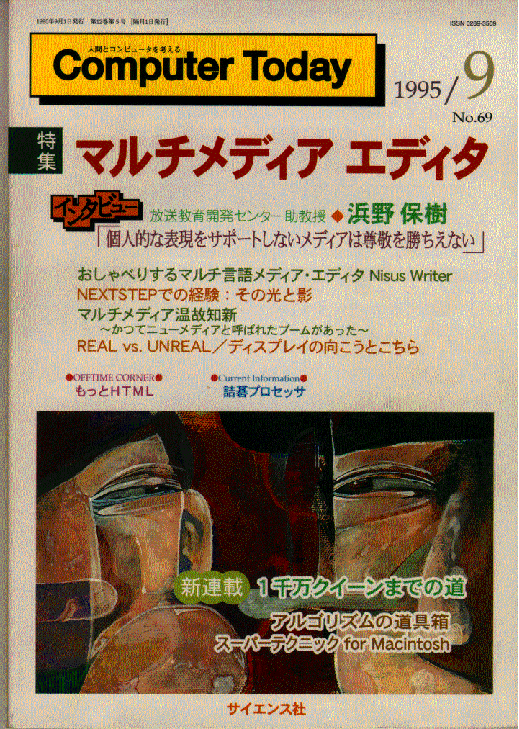 Cover page (Featuring multimedia editors in red)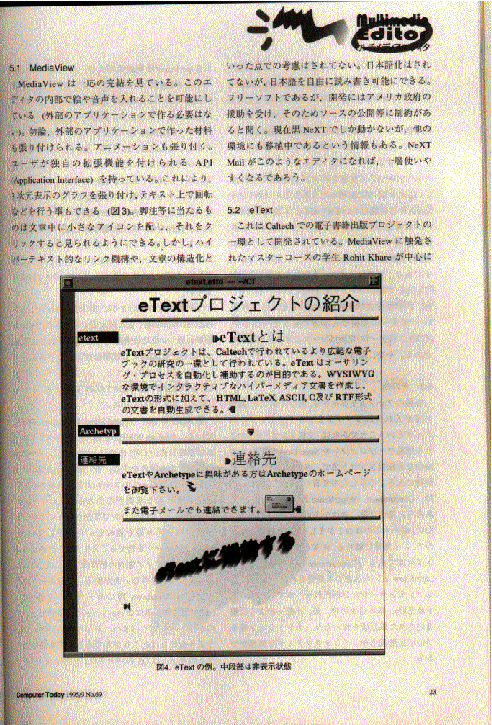 fragment which shows an eText sample in Japanese !
Unfortunately, the scanner was not well adjusted and the
quality of the tiff files are too bad.
By the way, is there anyone who is tying to Japanize eText ?
(To write Japanese on eText is possible, but to convert
it to HTML, etc except for RTF, we need modification of the
source. But don't expect that I shall be doing such business;
I have no such skill nor time).
---
Katsuaki KASAHARA
Engineering Dep. of Kanagawa univ.
e-mail: kasahara@cpnx2.b6.kanagawa-u.ac.jp (NEXT/MIME mail welcome)
kasahara@icrr.u-tokyo.ac.jp (NEXT/MIME mail welcome)
---
Go Up (Parent):

See Also (Siblings):
---
eText Japanese Review was converted on Wed Sep 13 13:34:58 EDT 1995 by the eText Engine, version 5, release 0.95